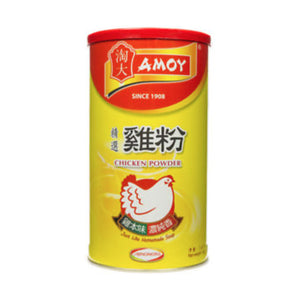 Amoy Chicken Powder Ajinomoto 
Just Like Homemade Soup 

Since 1909, Ajinomoto Group has been committed to serving good taste everyday through continuous research and development. Made from selected quality ingredients, Amoy Brand Chicken Powder is a high quality chicken seasoning and provides an authentic and savoury chicken taste for all your dishes. 

Usage Instruction: 
Dissolve 20g Amoy Chicken Powder in 1l boiling water 
Salt, Flavour Enhancers (E621, E635), Maltodextrin, Potato Starch, Dehydrated Chicken Powder (6.0%), Lactose From Milk, Sugar, Chicken Fat (1.5%), Soy Sauce (Soybean, Wheat, Maltodextrin, Salt), Yeast Extract, Flavouring, White Pepper, Ginger Powder.