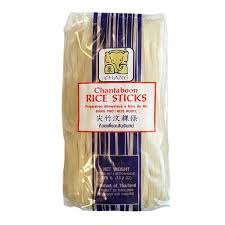 Used to make a wide variety of Asian noodle dishes, including the famous "Pad Thai" . These are excellent quality noodles that you will LOVE it!
The noodles should be soaked in warm (hot to the touch) water for about an hour or so depending on your preference.
Pad Thai is often called the signature dish of Thai cuisine. There are several regional variations, it has been said that Thailand has not only a different curry for every day of the year, but also a different pad Thai for every cook in Thailand!
Ingredients: rice flour, water. Product of Thailand