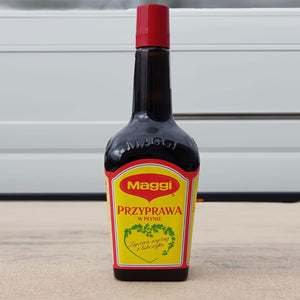 Maggi seasoning is a food flavor enhancer, invented in Switzerland and introduced in Germany that comes in a thin, concentrated dark brown liquid, powder, and cube form. In Germany, it's called Maggi Würze. "Wurze" means spice or seasoning.
This Bottled Sauce Is The Secret Weapon For Making All Your Food Taste Better
Inexpensive, widely available and more complex than soy sauce, just a few drops of this condiment will amp up the flavour of soups, stews or even a simple bowl of noodles.
Water, Hydrolysed Vegetable Protein (Water, Wheat Protein, Salt), Salt, Flavourings (with Wheat and Celery), Flavour Enhancers (Monosodium Glutamate, Disodium Inosinate), Yeast Extract, Sugar, Thickener (Xanthan Gum)