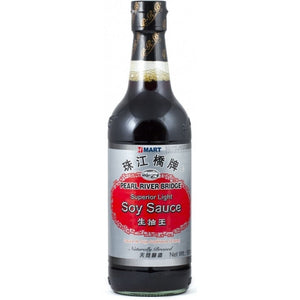 Since 1958, families all over the world have been welcoming PRB and its soy sauce into their homes.
Pearl River Bridge (PRB) Delicious Light Soy Sauce 

Delicious Light Soy Sauce, this essential and natural Chinese ingredient can be added to stir-fries, marinades and dressings or used simply as a table top seasoning straight from the bottle. 

Allergy Advice: Contains Soya, Wheat Gluten. 
PRB understands the power of seasonings to connect food and people, to unite cultures and enrich daily life. Being the leader of "Natural, Healthy, Delicious" seasonings, PRB is the superior selection for every cooking scene.
 Where there are cooking arts, there are Chinese. Where there are Chinese, there is PRB soy sauce. Whether you are chasing for delicious, nutritious soy sauce or you are looking for inspirations for extraordinary cooking, PRB is no doubt your first choice!